The Ideal Lead Generation Strategy for Startups
To advertise a product, increase brand awareness, and ultimately convert the audience, a lead generation specialist must connect with the targeted group of prospects.
Startups need marketing to effectively launch their products into the spotlight. It is crucial, and company owners must utilize a variety of marketing avenues to assist in getting their product(s) in front of a broad audience. You can make use of a variety of lead-generating strategies that will raise your product sales and total value with the aid of marketing funnels.
Finding a new lead-generating strategy to improve your product's image and increase sales for the startup is crucial. If you aren't achieving your lead targets, it is a waste of money and resources to advertise and employ various marketing strategies. A successful lead generation strategy always results in more leads for the startup.
The Power of Lead Generation
A lead generation is a tool that should not be ignored. For your business to thrive, you ultimately need to create revenue, thus lead generation strategy is simply the process of creating possible revenue prospects. There is much debate about whether lead generation strategy is about sales or marketing, but we think it is both. Marketing is necessary for your business to attract leads, which must subsequently be sold.
Having a lead-generating strategy will also be crucial for a start-up business that is a new player in its market. For conversions, it's crucial to be aware of the channels to use and the frequency of your lead generation. How well you convert your leads will determine how much money you make.
Generating High-Quality Leads
So, what constitutes a "high-quality" lead? Leads with a high possibility of becoming paying customers are considered to be of good quality. How likely people are to purchase your products or services will depend on the quality of your leads.
Lead scoring strategies that systematically assign values to your leads based on factors like lead behavior, lead source, product fit, and persona match should be used to categorize leads as high quality. Lead scoring, which considers both positive and negative actions taken by your leads, awards a greater score to an action that suggests a lead is more likely to convert, such as concluding a product presentation or contacting your sales team.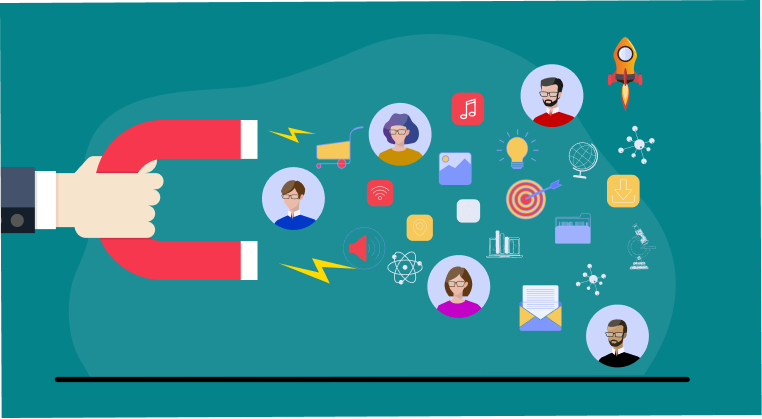 Strong product fit characterizes high-quality leads, which raises client lifetime value and retention. Although they are often more expensive to acquire for your marketing team, they are simpler for your sales teams and customer retention teams to manage.
Points to remember for ideal lead generation strategy for Startups
Increasing the number of potential clients who see your startup is a lead generation strategy. For each type of business, there are different ideal lead-generation tactics.
1. Don't Buy Leads
Some people advocate buying leads since they are simpler, require much less time and effort, and are more expensive than leads generated naturally. Because they don't know you, leads are never a good idea. Of course, sending emails to purchased lists is prohibited in the majority of jurisdictions. They probably consented somewhere while signing up for something, but it's quite doubtful that they consented to hear from your business. What you send them is consequently unwelcome and obtrusive.
These sponsored leads may mark your messages as spam after receiving unsolicited messages. If you do this, you can be in danger. This tells the email provider which emails are being filtered out in addition to filtering out emails from you. Once your emails have received enough spam reports, you are added to a blacklist. Other email service providers have access to this list. And once you're on the list, it's quite difficult to come off.
Your IP reputation and email deliverability are probably going to suffer. When your email successfully reaches the inbox of the intended recipient, you have achieved email deliverability. Deliverability diminishes if your communication ends up in the spam bin rather than the inbox. When software tracks the many kinds of messages received from a specific IP address in the never-ending search for spam sources, IP reputation is calculated.
2. Learn and implement SEO
About 10% of searchers, it is said, look past the first page of results when looking for information. Learn SEO so that your business can appear on the first page, or better yet, appear at the top of the first page. Three concepts can be used to condense the fundamental principles of search engine visibility: Give accurate information Respond to often requested questions Make sure your writing is concise and easy to understand.
Search engines will take note of your consistent production of high-quality content that responds to queries from potential customers and reward you by placing your website higher in SERPs (Search Engine Results Pages).
3. Include Live Chat
You can stimulate interest from new visitors, and potential consumers, and encourage repeat business from existing customers by being reachable in real time. Anyone can contact you through live chat features without picking up the phone or writing an email. Anytime a question arises, it can be posed and answered. Building relationships with new clients and prospects is made easier by including a Chat Now button on a company website.
4. Use Calls to Action
A CTA (call to action) button directs potential customers to a particular page where they are shown an offer of some kind. There are non-sales CTAs that give the customer—or potential customer—more details about what they were initially seeking. Additionally, there are CTAs that offer free material to prospects, such as an ebook or access to a webinar.
Make sure your material is compelling enough to draw a potential lead in and compel them to click. For the CTA to be effective in lead generation strategy, it must make sense in light of the potential customer's behavior.
CTAs are effective when they direct users to a landing page where they can choose from an offer that is tailored to their stage in the sales process. Avoid using CTAs to direct visitors to your homepage.
Even if the call to action (CTA) is about your brand or product rather than an offer for a download, you should still direct visitors to a landing page that is relevant to their search. Include an opt-in form at all times.
5. Deliver on your promise and maintain consistency in your message
The best lead generation strategy fulfills their promises and makes a smooth transition from the ad language and design to the actual product. Maintain a consistent message throughout the process and provide anyone who participates something of value.
6. Be Strategic with Social Media
Your Facebook, Twitter, LinkedIn, and other social media posts should include links to the landing pages of top-performing offers. To help readers prepare for your link, mention that they will be taken to a landing page.
Run a contest on social media as a lead generation strategy to attract leads. Contests can help you learn more about your audience while being entertaining and engaging.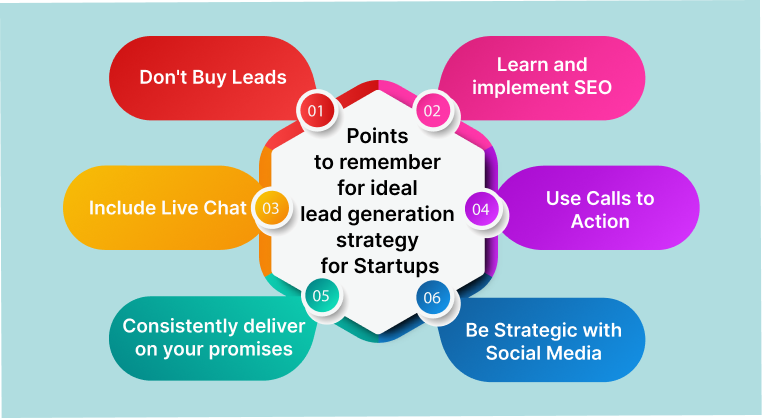 Lessons Learned for Lead Generation strategy
If you find that your lead generation strategy, or any component of it, isn't working, abandon it and try another approach. There are many options available, so there's no need to stick with anything that won't benefit your firm. Any old lead generation strategy can still be effective if you give them a modern update. Although you will need to invest some money, effective lead-generating strategies don't necessarily require a large budget. Be imaginative.
Final Thoughts
Every marketing campaign now includes a lead generation strategy as a crucial component. The key is to build a brand that people can connect with and relate to. When you do, your company will forge solid ties with its clients and boost its earnings especially for the startups.
You can generate more leads and turn them into clients quickly with lead generation software. Don't hesitate any longer; it is the secret to creating a strong internet presence.
You can rely on ConvertPath to increase your visitors using trustworthy and affordable lead generation software. Join right away!
What Makes the Best Website Lead Generation Tool?
#1
Maximize your conversions with personalized popups based on visitor's activity
#2
Personalize website based on visitor's past interactions
#3
Enable popup triggers to re-engage website visitors showing an intent to exit
#4
Build unlimited custom popups to convert website visitors into customers
#5
Make data-driven decisions by tracking subscribers
#6
Trigger popups based on user behavior like scrolling activity, time spent on the page
#7
Activate popups based on the visitor's country, browser and device
#8
Choose from a number of conversion-driven templates
#9
Unbelievable pricing - the lowest you will ever find
#10
Everything your business needs - 50 apps, 24/5 support and 99.95% uptime
Join the SaaS Revolution
All-in-One Suite of 50 apps

Unbelievable pricing - ₹999/user

24/5 Chat, Phone and Email Support