Click Through Rates Improvement Tips for Your Small Business
Looking for click through rate improvement tips? We've got you covered. This post will teach you how to improve your click-through rate.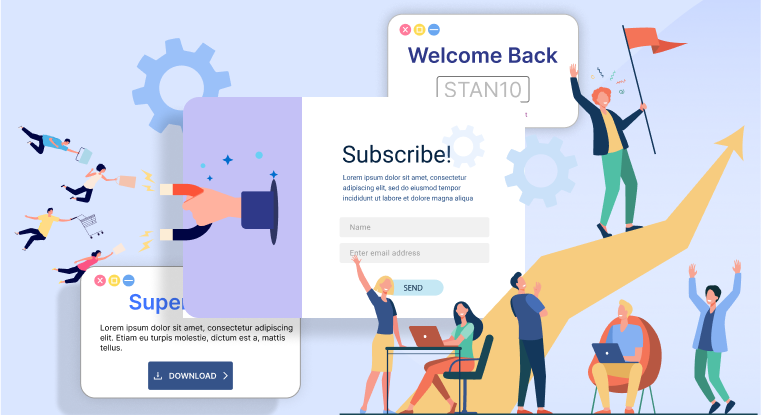 Pop-ups usually have a negative reputation online, but they can be effective tools on your website. While many people believe they are distracting or bothersome, nothing compares to the potential of tailored pop-ups for your business.
Pop-ups look like the catchy and flamboyant banners used in traditional marketing methods. However, you can still use popup maker for your website in the current day. It is all about using these pop-ups strategically.
Consider tweaking your pop-ups to get the most out of your clickthrough rate (CTR) approach. Accept, first and foremost, that advertising must be adequate, brief, and concise to fulfill the aim of placements.
Once the function of pop-ups has been determined, it's essential to move on to optimization measures to keep them from working against your CTR plan.
However, we will make things easy for you. We've got all the strategies and suggestions you need to improve your pop-ups and maximize the benefits of your CTR approach.
Let's take a look at the exciting world of website pop-ups.
Using Pop-Ups in 2022
Pop-ups have faced several complaints throughout the years. The use of anti-pop-up tactics attempts to influence user behavior.
Adding ad blockers further protects users from annoying and distracting pop-ups on your websites. However, pop-ups continue to increase clickthrough rates for any website effectively.
Furthermore, optimized pop-ups perform better than any other medium for increasing clickthrough rates. It all depends on your usage, much like the Facebook boost button.
Getting the Right Pop-Ups
Their kind determines the effectiveness of pop-ups. Some pop-ups function well, while others produce average results. It also relies on the budget and industry type.
Thus, based on your needs, you can choose from the various varieties of pop-ups accessible on the market.
The best pop-up types include the following:
Entry Pop Ups : The initial pop-up that opens on your web page is an entry pop-up. These are the most infamous pop-ups, which have a negative reputation in the business owing to their intrusive nature.
Exit-Intent Pop Ups: Exit-intent pop-ups appear when you leave your website. It's the last chance to reach a client who often bounces before checking out other pages.
Scroll-Based Pop-Ups: Scroll-based pop-ups appear only after visitors scroll a certain amount on your website. Customers are already engaged, so scroll-based pop-ups perform effectively.
Interaction-Based Pop-Ups: When a visitor hovers over specified information on your website, interaction-based pop-ups appear. As a result, these are the choices of marketing teams focused on providing tailored experiences.
Delayed Pop-Ups: Delayed pop-ups appear after visitors have spent a significant amount of time on any online page. As a result, these are comparable to scroll-based pop-ups that appear only after proof of interaction.
Optimizing Your Pop-Ups
On any website, powerful pop-ups are sure-fire calls to action. It attracts customers and offers them vital information about your products and services. All optimizations and adaptations are required to push the best practices on challenges, solutions, and intents.
Here are some tips:
Offering Relevant Content: The main reason to optimize pop-ups is to deliver the most nuanced information to your audience. As a result, optimizing your pop-ups is critical to developing and showing the most appropriate material for your audience.
Improve Your Customer Experience: Full-screen pop-ups can significantly degrade customer experience. As a result, monitoring the consumer experience and pop-up feedback is equally important.
Better Content for Mobile: Pop-ups designed for mobile users should not obscure the primary content. The guideline is simple: use mobile pop-ups that do not interfere with the user experience while improving the mobile-friendliness of your website.
Using It to Improve Your CTR Strategy
There are various ways popup builder plugins can help boost your CTR strategy. Consider using them for the following actions:
Offering First-Time Discounts: Many websites, particularly those in retail and eCommerce, employ pop-ups to give first-time visitors discounts. This is the most effective method for creating a highly attractive and non-irritating pop-up.
Giving Out Free Demos: With most of your website visitors not ready to buy right away, it is ideal not to pressurize them but rather to keep them warm by providing more alternatives. It removes the annoyance of pop-ups and can be used as an exit intent to draw the last call-to-action to all visitors.
Advertising Limited Period Offers: You can use scroll-down pop-ups to advertise the discounts and restrict offer sales. These pop-ups efficiently capture clients' attention, although they never interact with the information.
Conclusion
Pop-ups can be very useful in eCommerce websites as they can act as lead capture tool and helps in generating leads.You can close more deals with CRM. However, using them strategically and only when they are truly relevant to the user is essential. Otherwise, they can become annoying and cause users to leave the site and even avoid it in the future.
Are you looking for a pop-up builder in WordPress? ConvertPath has highly personalized pop-ups you can use to convert more website traffic into customers. Sign up today!
What Makes the Best Website Lead Generation Tool?
#1
Maximize your conversions with personalized popups based on visitor's activity
#2
Personalize website based on visitor's past interactions
#3
Enable popup triggers to re-engage website visitors showing an intent to exit
#4
Build unlimited custom popups to convert website visitors into customers
#5
Make data-driven decisions by tracking subscribers
#6
Trigger popups based on user behavior like scrolling activity, time spent on the page
#7
Activate popups based on the visitor's country, browser and device
#8
Choose from a number of conversion-driven templates
#9
Unbelievable pricing - the lowest you will ever find
#10
Everything your business needs - 50 apps, 24/5 support and 99.95% uptime
Join the SaaS Revolution
All-in-One Suite of 50 apps

Unbelievable pricing - ₹999/user

24/5 Chat, Phone and Email Support