5 Ways to Target Customers With Website Popups
Did you know that to increase your conversion rate, you need to target customers? Read this article to find out how to increase conversion using website popups.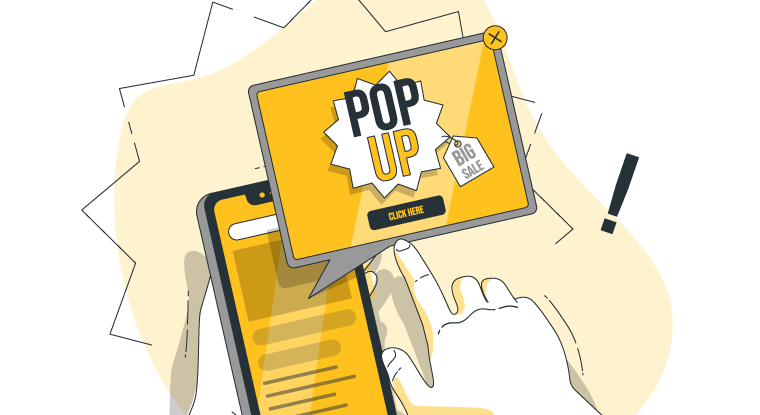 Several websites used the unpleasant entering web popup in the early days of online marketing. It took up the full screen before the website visitor could read the material. Visitors would exit without viewing the website, and significant traffic was lost due to entrance popups. This caused hesitation in installing web popups.
When done correctly, the benefits of online popups far exceed their drawbacks. Thus, companies have learned how to target their popups to consumers instead of spamming them. Many popups are available today, and they all perform admirably in terms of generating new leads when they target consumers correctly. Let's look at some methods you can use to target your popups.
What are Website Popups?
A popup is a graphical user interface display area that can appear as a window in various sizes and screen locations on a website's visual interface, usually without the site visitor's permission. They are known as ""website popups" because they appear on the consumer's screen suddenly.
Popups offer numerous benefits. Here are a few of them:
It enables you to expand your mailing list, create relationships with your audience through email, and shorten the buyer's journey.
You can advertise an e-book, guide, or case study that is related to the page the visitor is on.
You can demonstrate your experience in the subject and assist your audience in resolving their challenges.
Ways to Target Customers With Website Popups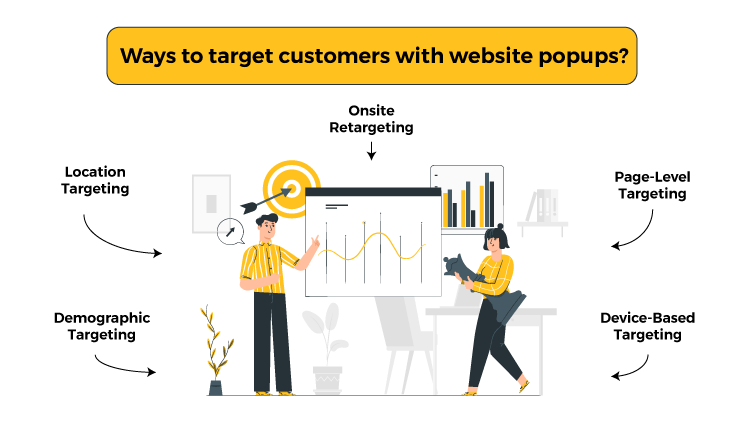 1. Location Targeting
Geo-targeted popups can detect a visitor's location and direct them to the appropriate website. So, you won't have any customers from Europe on your American website. Thus, there will be no more language hurdles or currency exchanges. Hence with proper user segmentation, you can increase your website conversation rate.
Your popups can also ensure that your customer is not shown the wrong product. For example, in January, your winter collection may be irrelevant to Australian tourists. So, these individuals must be shown products that best suit their weather. You can also use geo popups to invite visitors to new shop openings, special events, or in-store-only deals that are nearby. Lastly, you can use geo pops to determine the shipping cost to the customer's country.
2. Demographic Targeting
With internet retail providing a choice overload, some customers have found the unique items and shopping experiences provided by popups to be important. This is because popups focus on web engagement of a certain set of customers rather than focusing on the entire demographic.
Demographics are used in the demographic segmentation strategy to categorize clients based on their age, gender, ethnicity, income, and other statistical features of populations. This type of targeting is essential for market research. Market research assists you in identifying customer segments who are likely to purchase your product or utilize your service. In addition, you can build your company's logo, images, and branding to best appeal to your client base if you know the age, socioeconomic class, gender, and other demographics.
3. Page-Level Targeting
Nowadays, page-level targeted popup campaigns are regarded as the most successful ways of marketing and information exchange. You may rapidly boost your leads if a correct website popup is given to a specific audience on the right page. This form of targeting is extremely important in popup marketing.
You can quickly segment your email list and group subscribers with Page-Level Targeting depending on their interests and interactions with your website. Segmentation enables you to deliver relevant emails to your subscribers, resulting in higher open rates, higher clickthrough rates, higher sales, higher revenue, improved customer retention, and lower unsubscribe rates.
Page-Level Targeting can also help increase revenue at the checkout by reducing shopping cart abandonment with a well-timed, targeted discount coupon.
4. Onsite Retargeting
Onsite retargeting is highly tailored, targeted advertising based on visitor behavior. Its purpose is to follow visitors while they explore your site and determine when their behavior indicates that new material is required to keep them interested.
For example: If a visitor moves their mouse to the close or returns buttons, they likely want to leave your site. An exit popup provides you with another opportunity to capture their attention before they go.
A person who hasn't moved for 30 seconds on your site may have a query. This is an excellent opportunity for a popup to provide instruction or for a Chatbot to inquire if they want assistance.
Unlike retargeting advertisements, onsite retargeting allows you to reengage visitors at a low cost before they leave your site. Even if visitors do not convert, onsite retargeting may help you obtain a higher return on your retargeting ad budget by providing information about your brand to visitors. Furthermore, up to 25% of visitors exposed to onsite retargeting will respond positively to the popup, earning you subscribers or income.
5. Device-Based Targeting
With more customers visiting online stores on mobile devices, e-tailers want a method to establish and target mobile eCommerce consumer groups. To enhance conversions on non-desktop devices, several eCommerce companies utilize Device-Based Targeting options with timed control display feature. Device-Based Targeting for Popups enables you to format campaigns for phones, tablets, and computers, allowing you to increase user experience and conversion rates. Hence, you can provide your customers with a consistent experience while optimizing campaigns for various consumer segments. To get even more control over client groups, you can combine device-specific popups with Geo-Location Targeting, Page-Level Targeting, and Onsite Retargeting.
What Does ConvertPath do?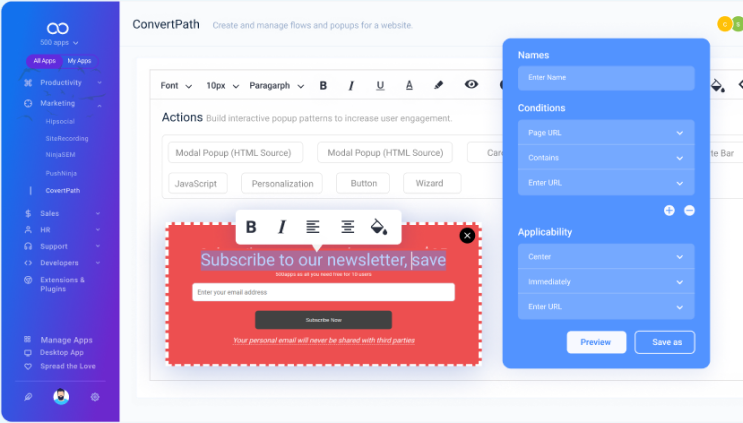 You can engage particular client categories and significantly enhance your popup conversion rate by employing multiple triggering methods and changing the content of your popups. This is something ConvertPath by 500apps can help you with.
ConvertPath is a popup builder that can help you increase website visitor engagement. In order to convert more website traffic into consumers and improve conversion rates, you can use this application to create high popups for your website. You can also easily add additional popups, sidebars, and javascript with a single line of code. Hence, no developer team is necessary.
Some other features of this application include:
User Segmentation: Boost conversion and improve the onsite experience of your customers by showing the correct message to the right individual at the right time.
Templates: Use high-quality campaign templates to create a call to action and a pleasant user experience.
Time Display Control: Schedule campaigns with multiple display rules, triggers, and placement to successfully automate user involvement and data collection.
Boost Website Conversion With Website Popups Sign Up 14 Day Trial
Summing it Up
A popup-builder is a simple tool that you can add to a website to convert visitors to consumers. You can not target the needs of all visitors with a single popup. However, you can engage particular clients and significantly enhance your pop-up conversion rate by employing multiple triggering methods and changing the content of your pop-up. ConverPath can help you do this easily. So, do not hesitate and get the app today!
What Makes the Best Website Lead Generation Tool?
#1
Maximize your conversions with personalized popups based on visitor's activity
#2
Personalize website based on visitor's past interactions
#3
Enable popup triggers to re-engage website visitors showing an intent to exit
#4
Build unlimited custom popups to convert website visitors into customers
#5
Make data-driven decisions by tracking subscribers
#6
Trigger popups based on user behavior like scrolling activity, time spent on the page
#7
Activate popups based on the visitor's country, browser and device
#8
Choose from a number of conversion-driven templates
#9
Unbelievable pricing - the lowest you will ever find
#10
Everything your business needs - 50 apps, 24/5 support and 99.95% uptime
Join the SaaS Revolution
All-in-One Suite of 50 apps

Unbelievable pricing - ₹999/user

24/5 Chat, Phone and Email Support