5 Tips to Improve Website Conversion With Lead Capture Tool
If you are looking for a lead capture tool to improve your website conversion, this article will give you 5 tips to do so.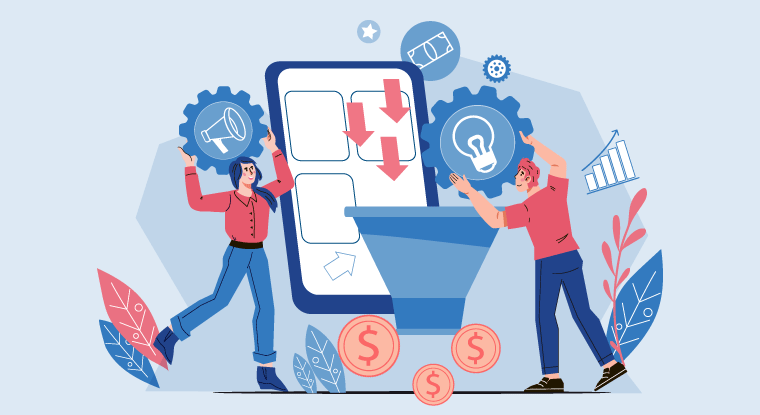 With new innovations being released in the market every day, it is essential to grasp your audience's attention and discover potential customers. Not just huge organizations, but even small and medium-sized firms, can locate their prospects and turn them into paying clients. The idea behind lead generation is to search for people who are likely to be interested in your products and services. However, how is this list compiled, and what information does the corporation require to reach out?
What is a Website Lead Capture Tool?
Lead generation tool helps locate prospects and persuade them to buy your products or services. It raises awareness and creates a list of people from your target audience to improve sales leads, making it easier to convert them into paying consumers. Many lead creation tools are available to help marketers expedite this process.
Lead capture tool collects basic information from people, such as their names, phone numbers, email addresses, and other fields, allowing you to quickly connect with them. This process has been around for a long time, but new tricks and procedures may increase its power and optimize it further.
Why Should an Online business Adopt Them?
Here are 2 key reasons why you should opt for a lead capture tool
1. Obtain Customer Feedback
There's no better way to convert prospects into customers than to get valuable feedback from previous clients. However, you do not always obtain these automatically. Therefore, it is beneficial to get testimonials and evaluations from your consumers. You may then include this in your marketing materials, such as your website, videos, infographics, and social media postings.
2. Obtain Precise Lead Information
Contact forms, sign-up forms, and chatbots are some ways a company can collect leads. However, some of the information you have obtained may change over time, so you must keep it updated. Lead capture software helps keep your contacts' phone numbers, addresses, job titles, purchase habits, and other pertinent information correct and up to date.
Tips to Improve Website Conversion with Lead Capture Tool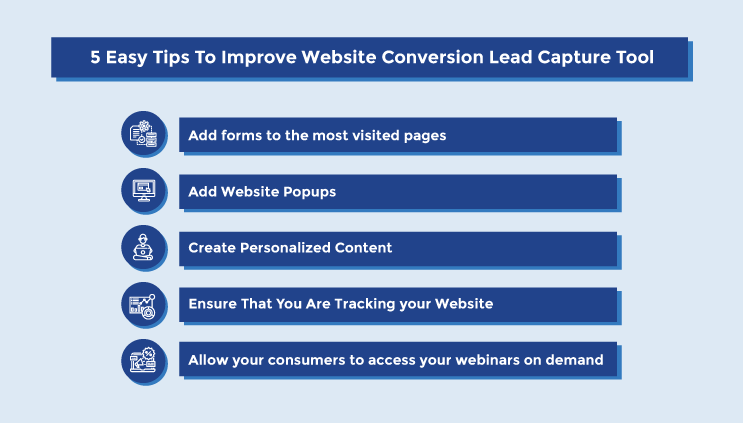 1. Add Forms to the Most Visited Pages
Before you begin, it is important to assess your current level of lead generation. This can help you track your performance and identify the areas that require the greatest development. Once you've determined where your leads are coming from, you can ensure that the pages of your website are doing everything possible to pique the visitor's interest. A great way to do this is to add forms to the webpage. Lead generation forms are web forms that collect information on potential clients. This information includes the customer's name, phone number, email id, title, job, etc.
While creating these forms, you must remember to keep them brief. The fewer fields you ask consumers to fill out, the higher is your conversion rate. The form's questions should concentrate on the facts required to achieve your goal. Furthermore, you must provide your customers something of worth in return, like a discount code. This is vital to consider since otherwise, individuals may glance at the form and then reject it. Lastly, you can check that your forms are mobile-friendly and test them yourself on multiple mobile devices. The biggest benefit of a lead-generating form is that you don't need to direct users to a landing page. As the customer's journey is shorter, there is a higher chance of generating leads.
2. Add Website Popups
Pop-ups are becoming increasingly popular in the digital marketing world. They help you retain your website visitor's attention on the page. The most effective technique to make a popup is to keep it relevant and instructive. A good popup should be brief, informative, and have clear call-to-action instructions. Businesses may utilize several forms of website pop-ups to increase conversions. These include employing pop-ups as exit points when visitors are ready to leave the page.
Exit popups grab the customer's attention before they leave the site by sending a message asking whether they want more information about what you have to offer. Such pop-ups can also ask the consumer to leave behind their email id and contact number for a discount, helping you build your email list. This is also a great way to collect social shares without spending a lot of money on each campaign. Another type of popup is entry pop-ups. These pop-ups work best when they provide users with new functionality, shareable material, or competitions. You may also use them as a call to action, directing website visitors to certain areas of your site.
3. Create Personalized Content
Displaying dynamic material dependent on the consumer's interest makes your website more relevant and actionable. Another way to personalize content is to provide the content based on the events or offers being offered. For example, assume your organization is hosting a quiz night, and an uninformed prospect decides to visit your website. You can display a message encouraging them to join at the last minute with tempting offers to hook them into being a consumer. Personalizing the customer's experience depending on when they interact with your firm, regardless of industry, may leave a lasting impression in the customer's mind. This is one more way to ensure a larger conversion rate.
Tailored presentation of content depending on the device used by the customer can create high-quality leads. While there are plenty of methods to customize consumer interactions based on device, the click-to-call button is prominent. Research shows that 61 percent of mobile searchers prefer a click-to-call button when purchasing goods. Assume a potential consumer accesses your website on a mobile device. An excellent technique to turn them into leads is to provide a click-to-call button to make the dialling process easier.
4. Ensure that You are Tracking Your Website
If you haven't been tracking, finding your website analytics can be an eye-opener. Website tracking can show which of your marketing efforts are the most successful and which can be extremely beneficial, as you can do more of whichever marketing practice drives your leads.
The two main types of website visitor tracking are first-party and third-party tracking. First-party tracking refers to data collected directly by the domain visited by the consumer. In contrast, third-party tracking is data collected by a third-party tracker, which are invisible snippets of code that are present on a website. These trackers collect data on a customer's browsing history and send them to companies for advertising purposes. You should avoid this type of tracking.
Most website lead generation app use IP addresses to estimate user location, which can assist teams in understanding where their audience is located and segmenting data for insights. Using this data, you can create short-term and long-term goals for each lead generation page on your website.
5. Allow Your Consumers to Access Your Webinars on Demand
Webinars are an excellent way to generate new leads. You get the contact information of hundreds of people every time you conduct a webinar. You can also post your webinars on your website and make them available as on-demand webinars. Another way to generate leads via your website is to shorten the webinar to a 1-2 minute version, which customers tend to watch more often.
This method has a high-value component, but rarely do websites include it. Adding your webinars to your website is an excellent combination because you get great content to share with visitors while generating leads. It also covers the costs of all those in-house and third-party webinars.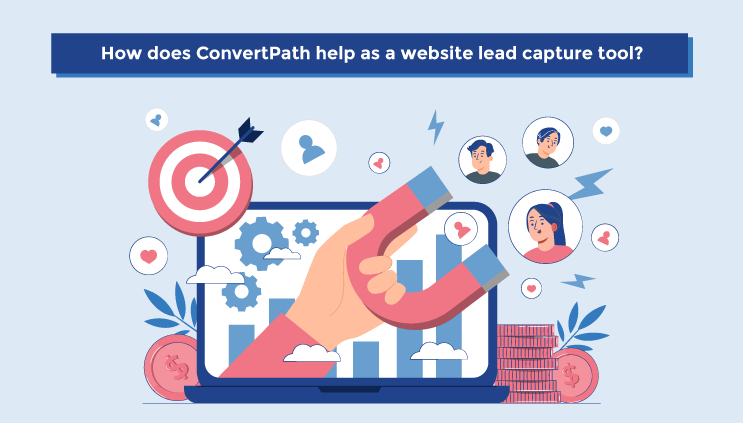 How Does ConvertPath Help as a Website Lead Capture Tool?
ConvertPath by 500apps is a Website Personalization Tool that can help you get more clients using targeted personalization rules based on their website behavior.
To increase consumer engagement, the application has trigger rules to display a dialogue box popup at the ideal time on a website. These pop-ups can be targeted to your audiences by experimenting with varied display, color, font, and placement of elements. You can also copy the HTML script from the share box and paste it into your HTML to publish your popup or marketing page. Thus, the page is integrated into your page as a widget. You can also reduce customer support costs and improve user adaptation by providing visitors with a helpful walkthrough on how to navigate your website. Using these features, you can build your website and ensure rapid business growth.
Boost Website Conversion With Lead Capture Tool Sign Up 14 Day Trial
Summing it Up
Lead capture tool is essential for acquiring and maximizing your contact information. They are among the most effective methods for discovering sales possibilities and converting them into paying clients. The high-converting strategies listed above are a great place to start, so it is essential to use them right away to see an increase in conversions, sales, and revenue. We recommend opting for ConverPath, which can help you identify which of these strategies to incorporate through a comprehensive analysis provided by the app. You can avail these features and many others by visiting the website today!
What Makes the Best Website Lead Generation Tool?
#1
Maximize your conversions with personalized popups based on visitor's activity
#2
Personalize website based on visitor's past interactions
#3
Enable popup triggers to re-engage website visitors showing an intent to exit
#4
Build unlimited custom popups to convert website visitors into customers
#5
Make data-driven decisions by tracking subscribers
#6
Trigger popups based on user behavior like scrolling activity, time spent on the page
#7
Activate popups based on the visitor's country, browser and device
#8
Choose from a number of conversion-driven templates
#9
Unbelievable pricing - the lowest you will ever find
#10
Everything your business needs - 50 apps, 24/5 support and 99.95% uptime
Join the SaaS Revolution
All-in-One Suite of 50 apps

Unbelievable pricing - ₹999/user

24/5 Chat, Phone and Email Support