5 Lead Capture Strategies to Boost the Signups on Website
When you're searching for the best lead capture strategies, your goal is to capture the visitor's interest and encourage them to sign up on your site.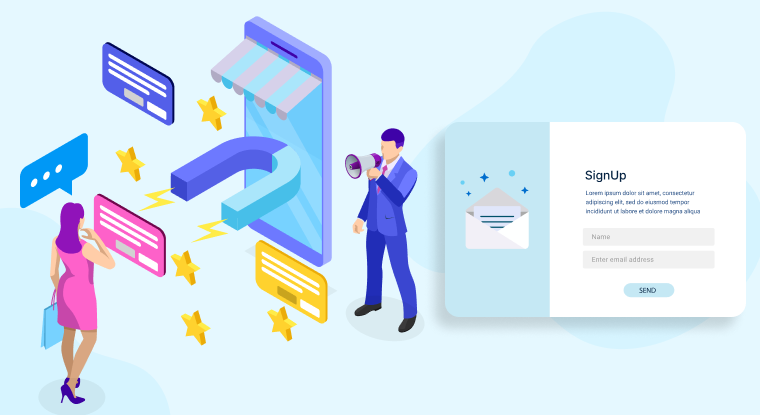 Lead capture refers to gathering information about people who express interest in the business and may become clients in the future. There are different lead capture tools, but the most typical is creating a contact form that allows clients to submit their details to the company, such as their name, address, and contact information. Companies can employ lead-capture strategies on their websites, social media platforms, emails, and other forms of contact to reach out to potential customers.
How is Lead Capture Strategies Useful for an Online Business?
The lead capture process is vital for every company that sells products or services since it is an excellent way to build and maintain a customer base. Businesses can collect information from potential consumers and use it to contact them in the future to send a good pitch and invite them to make purchases from their company using an effective lead capture strategy. Aside from that, lead capturing tactics can help with:
Creating Brand Awareness
By informing clients of the offerings on a regular basis, a firm can consistently market its products and services, establishing a name for itself in the market.
Provides Quality Leads for the Sales Team
Capturing leads aids in the formation of relationships with prospective customers and familiarizing them with your company's products, providing a good opportunity for the sales department to convert leads into loyal customers.
Increasing the Revenue
Leveraging the information on good leads, companies can present an enticing offer to them that empathizes with their needs and requirements, encouraging them to convert into a customer, thus increasing the company's returns.
Main Lead Capture Strategies to Boost the Signups on Your Site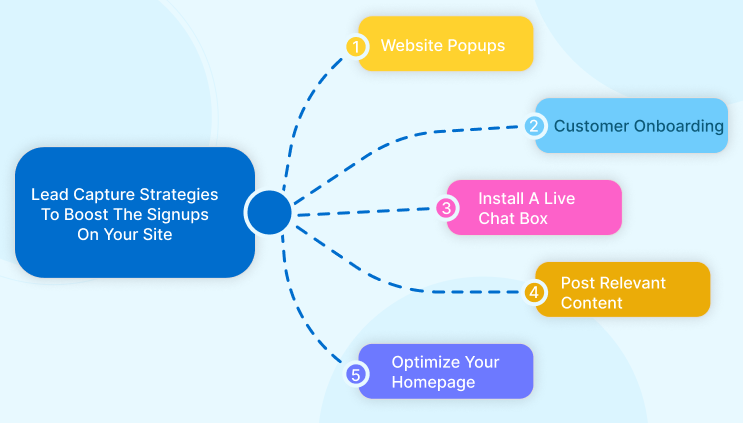 Developing lead-capturing strategies is essential to the success of your organization. Whether you're looking for B2B leads or B2C clients, you'll need various techniques to keep bringing in new and qualified leads. Therefore, we bring you the five best lead-capturing strategies to boost the signups on the website.
1. Website Popups
The website popups is a form of instructional or promotional offer that appears on top of your content in order to grab your visitors' attention right away. Popups frequently include a call to action (CTA) such as subscribe or free trial to persuade your visitor to do whatever you desire. Popups are typically used to collect email addresses, but they can also be used to collect leads, market new products, stimulate demo sign-ups, and so on. When implemented appropriately and in accordance with the best practices, pop-ups can be highly effective. Pop-ups on websites are classified into various types. Each of them has its own use, benefits, and drawbacks.
Exit Popups - These popups neither interfere with the website nor do they hinder the visitor's experience, allowing them to freely browse the site and only appear when they are about to depart the website and abandon their cart.

Time-Based Popup - It's a good time to remind visitors on your website of anything vital if they've been inactive for more than a minute. With a time-based web pop-up, you can request their email address or provide a discount coupon. It totally depends on you.

Click Me Popup - This form of web pop-up does not appear until the website visitor hits a link or a button on the web page relevant to the pop-up, guaranteeing that the website user's experience is not disrupted.
2. Customer Onboarding
Loyalty has to be seized at the very beginning of a customer's journey, as the first point of contact leaves a lasting image of the brand in the customer's mind. Customer onboarding is the process of guiding a new customer on how to get the most out of your products or services. Listening to clients' queries and concerns and responding to them is also an integral part of the onboarding process.
The customer onboarding process is important because of the following reasons. If companies can prove the real value of their products during the onboarding process and answer all potential concerns, they will have a better chance of turning leads into paying clients. It results in positive word of mouth, which leads to the acquisition of new clients.
In-app wizard is all about making the visitors' website experience a pleasant one. Satisfied consumers are more likely to buy again and become loyal customers than those who are upset. Customers loyal to your company are a very important asset, as getting a new customer is far more expensive than sustaining the one you already have.
3. Install a Live Chat Box
Having someone to guide customers when they are online is significant assistance they appreciate. The simplest way to grab the customer's attention and make them happy is to engage in live chat. Live chats have been shown to be an effective lead generation tool. They operate as a guide for visitors who seek assistance, and they can also be used to start conversations with visitors who are unclear about what to do next on the site. Businesses could even integrate a live chat option with the customer service team so that visitors may speak with a real person if they have a question that requires specialized responses. The live chat function can start personal conversations with first-time visitors, returning customers, and existing users.
Live chat is an effective tool for businesses as it helps in -
Enhancing customer confidence
Attracting new clients
Real-time and fast customer support
Increasing client happiness while lowering churn
Promoting the product's image among potential customers
Providing real-time solutions to consumer questions and assisting in improving the customer experience
4. Post Relevant Content
It's important to remember that lead capturing strategy won't function until you have enough traffic, and one of the most efficient ways to attract visitors to your website is through blogs. To position yourself as a market leader, it is important to make sure every topic on your blog has something to do with your sector. Increasing the amount of blog content you publish improves your website's search engine visibility. The more frequently you update your blog, the higher your website ranks on Google, and the more visits you get, which in turn means more opportunities for capturing leads on the site. However, it is imperative to keep certain pointers in mind while posting content with the intention of getting good leads.
Concentrate on Topics That are Always Relevant: While breaking news can increase traffic temporarily, they are not worth the time and effort. Therefore, creating content that can pique your audience's interest is necessary. These evergreen contents gain traffic and links over time, especially if you update them on a regular basis.

Invite Guest Blogs: Guest authors can not only provide variety to your issues and perspectives, but they can also share the piece with their network and link to it on their site, perhaps bringing new readers to your web page. While guest blogging, it is important to publish only high-quality original content free of fraudulent links.

Establish a Resource Center: Videos and blog articles aren't the only sorts of content businesses should make to market their services to the audience. You should also consider infographics, downloadable pdfs, and other resources. Visitors are likely to visit your site again if you have a collection of multimedia content that can catch their eyes during their first visit.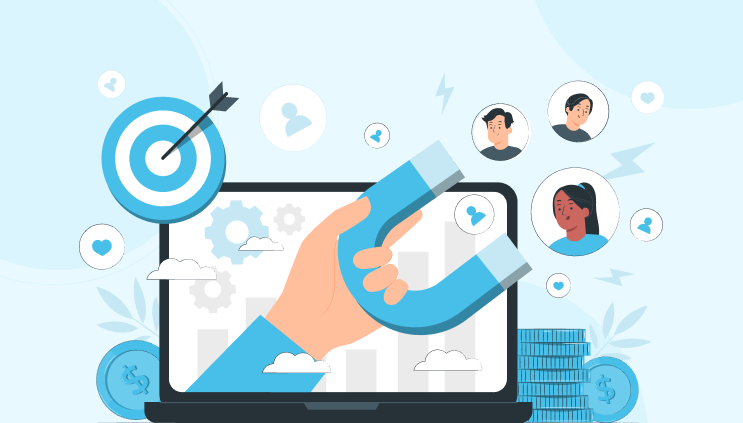 5. Optimize Your Homepage
The website's homepage receives the maximum footfall compared to any other page on the website. Many companies focus their efforts on upgrading the content and service or product pages, but their homepages are often overlooked. Thus, it is important to optimize the company's website to attract the visitors' attention and encourage potential leads to become customers with proper. Optimizing a business website not only boosts traffic but also helps convert visitors into customers.
Businesses can develop customized experiences for different visitor categories and assist them in completing their goals on the website by using a proper call-to-action button and a lead capture software. The website homepage aims to entice visitors to explore the site further and take them down the sales funnel. It is essential to include two to three calls-to-action above the fold that lead customers to different stages of the buying cycle and make sure they're in easy-to-find places. On the website, you can include a few of your business quotes and, if applicable, a link to case studies. Having a name and a photo gives these testimonies greater authenticity, which aids in building the client's trust in the business's products and services.
How Does ConvertPath Help?
In order to gather good leads, it's crucial to customize your websites appropriately. ConvertPath makes this process easier by assisting you in devising the best lead-capturing strategies for your business. The app aids in designing customized onsite experiences that guide visitors through various stages of the buyer's journey. It also creates campaigns for digital marketing, which lets you capture potential leads with ease. The software reduces customer service expenses and improves the browsing experience by providing visitors with a helpful guide on navigating the website. These intuitive features of ConvertPath effortlessly convert good leads into loyal customers.
Boost Signups on Website with Lead Capture Strategies Sign Up 14 Day Trial
Summing it Up
Although not everyone who sees your website becomes a customer, there are still lead capturing strategies to increase the chances that a significant number choose to become one. You can employ case studies to demonstrate your expertise, optimize your homepage, increase your brand's credibility, and utilize successful CTAs to get more leads on the website. If you aren't already using these tactics, now is the time to jump on board and get started. Improving your marketing strategy by converting those leads into customers can instantly increase your sales. There are also a variety of tools you can use to capture potential leads, but this can be quite a hassle. Therefore, we recommend ConvertPath a Website Personalization Tool by 500apps, a one-stop solution for increasing website signups instantaneously. If you haven't tried the tool yet, you can subscribe for a free trial to personalize your website for a seamless lead generation experience.
What Makes the Best Website Lead Generation Tool?
#1
Maximize your conversions with personalized popups based on visitor's activity
#2
Personalize website based on visitor's past interactions
#3
Enable popup triggers to re-engage website visitors showing an intent to exit
#4
Build unlimited custom popups to convert website visitors into customers
#5
Make data-driven decisions by tracking subscribers
#6
Trigger popups based on user behavior like scrolling activity, time spent on the page
#7
Activate popups based on the visitor's country, browser and device
#8
Choose from a number of conversion-driven templates
#9
Unbelievable pricing - the lowest you will ever find
#10
Everything your business needs - 50 apps, 24/5 support and 99.95% uptime
Join the SaaS Revolution
All-in-One Suite of 50 apps

Unbelievable pricing - ₹999/user

24/5 Chat, Phone and Email Support