7 Best Website Personalization Tools for Better Conversions
In this article, we'll learn about the top best website personalization tool in the market and how it helps businesses increase website conversion rates.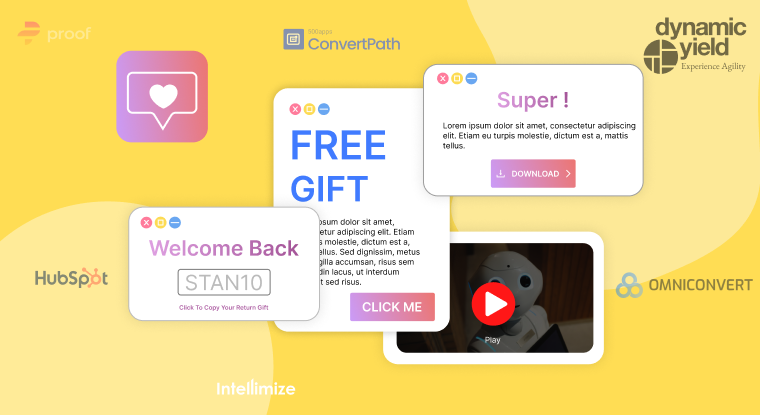 A website personalization tool builds a customized web experience for site visitors. The tools help organizations provide a unique experience tailored to needs rather than a single, broad experience. Website personalization tools help offer an end-to-end personalized experience to the visitors of a page. Businesses and marketing teams tailor marketing content and digital advertising by using the tools to make them more relevant to the target audience.
Why Should Online Businesses Focus on Website Personalization?
Personalization works as a blessing in disguise for organizations competing every minute to grab audience attention. The website personalization tool will help the brands tell their visitors that they care about their preferences, desires, and interests by providing relevant content and experience. A unique user experience allows the audience to stay longer on the website and helps grow the brand business. A website personalization tool helps a brand personalize every marketing funnel step, from emails to ads to landing pages.
List of Best Website Personalization Tools
A website personalization tool will take your online business to the next level. Here is a breakdown of the seven best website personalization tools to enhance your digital marketing.
1. ConvertPath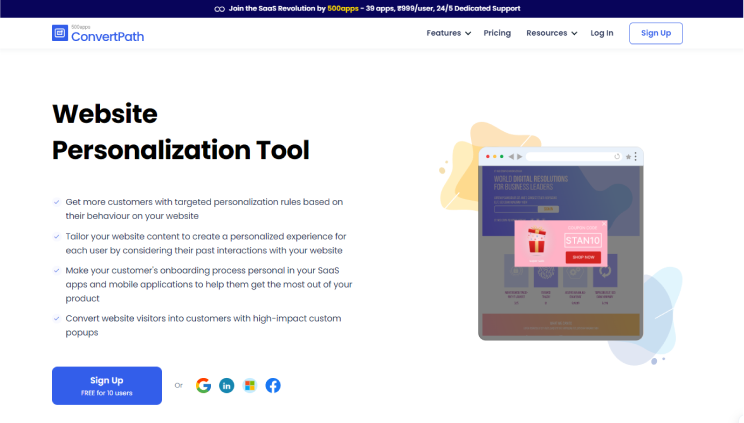 ConvertPath helps businesses create and launch dynamic campaigns. The business organizations, in turn, can convert them into leads to engage the website visitors. Users can develop customized campaigns using this website personalization tool without prior coding experience. It has a library for pre-made themes to incorporate into the website campaigns.
ConvertPath helps analyze every web activity using subscriber clicks and campaign statuses. Users use the personalization tool to manage every site element from a single location. It allows them to analyze the notification messages, customer onboarding, JavaScript, site bar, exit-intent and other significant website elements.
The website personalization tool helps business organizations get more customers with targeted personalization rules. They can tailor the website content to create a unique experience for each user by considering their past interactions. ConvertPath helps make the customer onboarding process personal to help them get the most out of the products and services.
ConvertPath uses high-impact custom popups to convert website visitors into loyal customers. Its personalized onsite experiences assist the visitors in scrolling through various stages of customer experience with increased conversion rates. Business organizations do not require any programming or development to create campaigns for digital marketing, online blogging, or eCommerce websites. The tool provides customers with a walkthrough of how to navigate a website easily.
2. Proof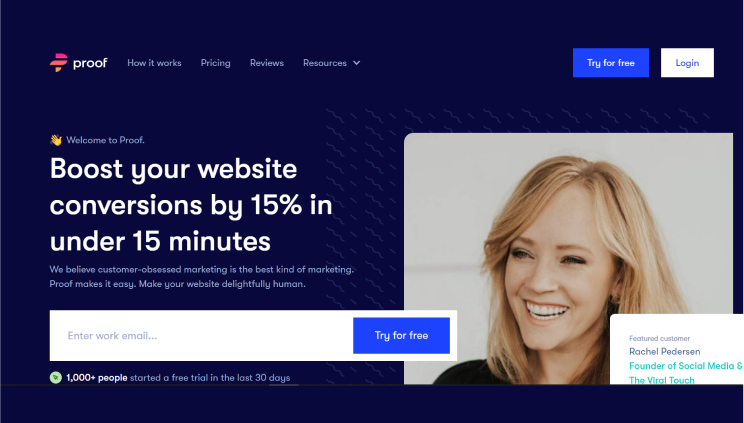 Proof is the website personalization tool to boost your website conversions by 15% within minutes. The personalization tool follows the principle of customer-obsessed marketing to make a website digitally successful. It has helped more than 25000 businesses to convert their visitors to leads and sales with social proof marketing. Business organizations can add Proof to their marketing funnel to create urgency and build trust to increase conversions per page. The tool has multiple elements to help business organizations plan their marketing content and digital strategies. The tool helps businesses analyze the following criteria.
The number of customers who have taken action on the site.
The number of customers viewing a page or the whole website.
Live feed of real customers who have recently taken action on the site.
The best part about Proof is that it is easy to set up and includes multiple custom settings to boost a website's user experience. Its beautiful analytics get displayed on a dashboard for the business organizations to strategize better on upcoming plans. Proof's JavaScript is lightweight and fast to help load a page's content without buffering issues. The personalization tool enables businesses to take note of every activity happening on the website, from conversion rates and the number of visitors to live customer feeds to get better analysis.
3. HubSpot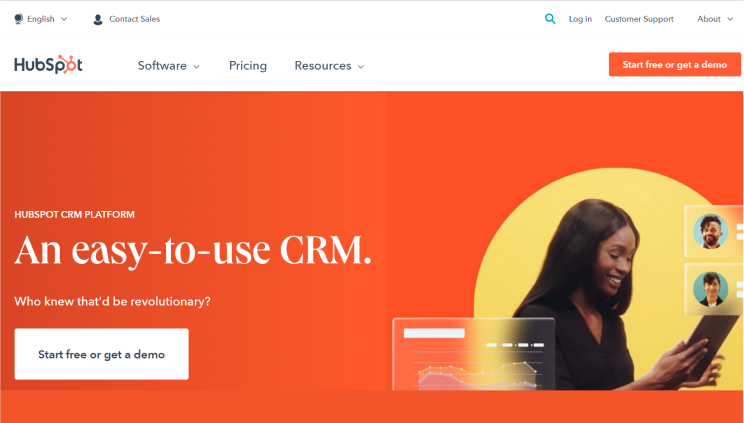 HubSpot has an all-in-one marketing platform that allows organizations to personalize their website and campaigns through its free and paid features. Organizations can create personalized lead-capture forms and trigger them as popups based on the visitor actions on a website. It allows the visitors to spend more time on the website before leaving the page.
Business organizations can use HubSpot to customize their email content using personalization tokens, Customer Relationship Management (CRM) data, and other significant features. HubSpot has a Smart Content feature that allows organizations to create unique website experiences and CTAs for visitors based on various criteria like device type, referral source, etc.
HubSpot has lead generation software that is the best solution for website conversion rate. The best part about these tools is that they are 100% free and boost the site performance by analyzing every aspect of customer experience.
HubSpot allows business organizations to use its free tools to improve the website customer experience. However, they can also choose premium software tools to enhance the digital marketing experience in a competitive market.
4. Google Optimize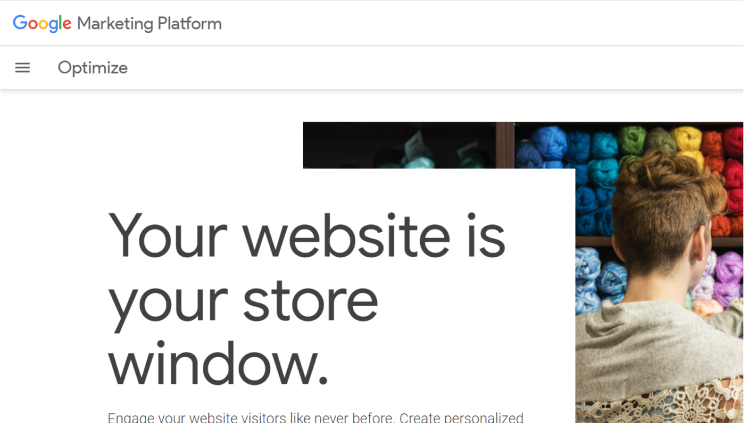 Google Optimize is a split testing dynamic website personalization tool. It is available both as a free software tool and a paid enterprise product for various organizations. Currently, the tool gets branded as Google Optimize 360. The enterprise tool provides multiple testing capabilities and elements to analyze the analytics audience.
Google Optimize helps business organizations identify the site experiences that engage the customers and deliver solutions to them. The website personalization tool allows to create personalized experiences and run free tests to engage the visitors.
The best part about Optimize is that it is also integrated with Google Analytics to help understand how a website needs improvement. Business organizations can conduct test runs on their websites' content to learn which strategies work best for the target audience. The tests for website analysis are A/B or split testing, multivariate testing, and redirect testing.
Google Optimize allows business organizations to customize their websites to suit each audience type. The tool has made it easy to tailor a compelling customer experience for visitors each time they visit a website. The personalization tool helps websites drive better results within minutes by optimizing them in the best possible way. Business organizations can create elements like custom landing pages to convert more audiences into loyal customers.
5. Dynamic Yield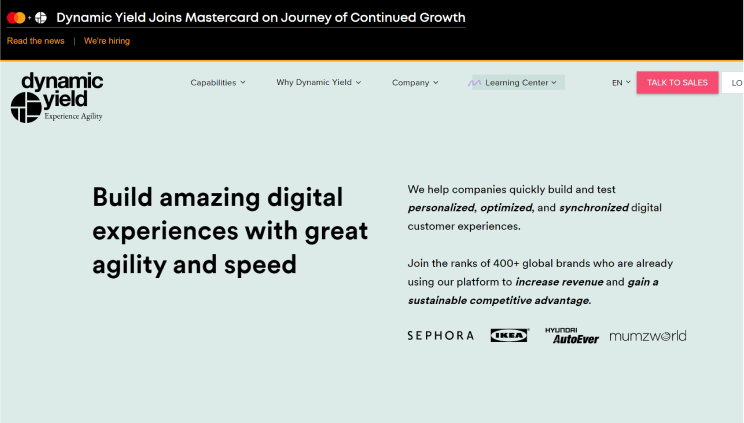 Dynamic Yield is the website personalization software for marketers who want more engagement and drive higher revenue from their website experiences. It is a platform that has a plethora of tool systems like behavioural marketing, A/B testing, customer segmentation, and omnichannel personalization. The platform helps organizations build optimized, personalized, and synchronized digital experiences with speed and agility.
More than 400 global brands have already associated with Dynamic Yield to increase revenue through website experiences and gain a competitive advantage over other organizations in the market.
Dynamic Yield is a platform that accelerates the execution of the customer experience strategies by activating data from a source to create relevant interactions to drive more sales. The website personalization tool helps organizations strategize on product recommendations and deep-learning content to prompt the audience. It enables behavioural notifications and overlays on a website to drive higher customer engagement in a short period.
The tool allows organizations to experiment and drive a culture of testing and optimization for minimal risks in website management. Dynamic Yield uses Software Development Kits (SDKs), Application Programming Interfaces (APIs), and flexible implementations to build customer experience infrastructure for improving the website's performance. It also triggers push notifications and personalized emails to reach the audience during critical moments.
Boost your Website Convertion Rate with Website Personalization Tool Sign Up 14 Day Trial
6. Intellimize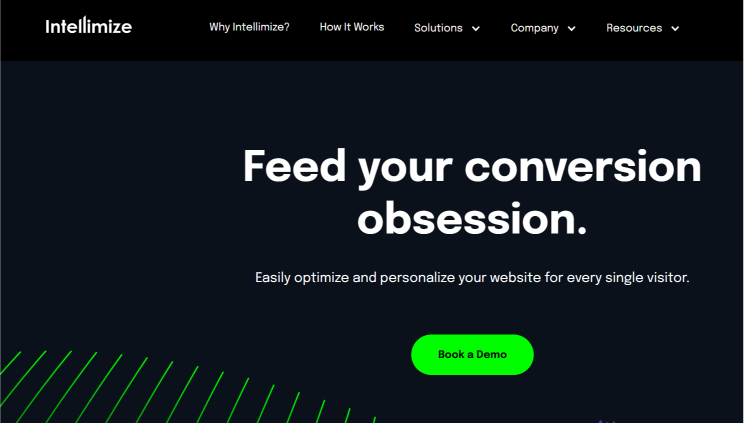 Intellimize is a website personalization tool to help business organizations increase conversion rates and drive higher revenue by using elements like Artificial Intelligence (AI), analytical tools, dashboards, etc. The tool allows organizations to personalize and optimize their websites for a better customer experience. It helps create custom experiences for every unique visitor based on their search history on the website.
Intellimize is the only AI-driven website personalization tool that helps enhance customized user experiences. It helps organizations transform their static websites into high-converting, personalized platforms that no longer cater to the one-size-fits-all experience. The tool enables real-time, AI-powered optimization for every visitor visiting the website. Business organizations who want to accelerate human choice's impact on a website can choose Intellimize for better optimization. It helps combine ideas through machine learning strategies to show the visitors their personalized page through real-time optimization.
Intellimize has a continuous conversion platform for analyzing visitor behaviors to figure out the best experiences that could be provided to the customers. The website personalization tool helps conversion-obsessed business organizations to create bespoke web pages shaped by the best ideas to increase visitor footfall and revenue generation.
7. Omniconvert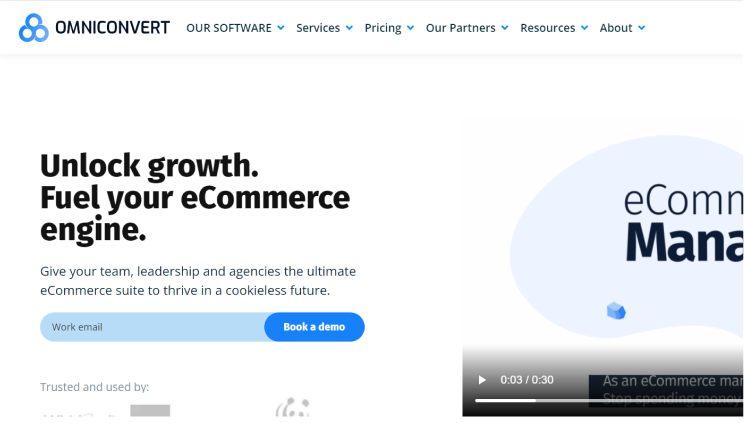 Omniconvert is a website personalization app for business organizations to get conversation-based surveys, overlays, segmentation, and A/B testing services in an all-in-one platform. It helps the organizations understand their buyers and increase the conversation rates of the websites.
Omniconvert has all software required by an organization for data-driven growth. It makes the organization customer-centric for converting visitors into loyal customers.
The tool helps organizations test their website insights and run experiments for better web page optimization. Its retention strategy allows organizations to monitor, understand, and nurture their existing customers. The personalization platform is an audience builder for business organizations to enable dynamic custom audiences for every website. Omniconvert understands that customers can enhance a brand's growth. It gives them the voice they deserve to express their needs and preferences to a website for a better user experience.
Omniconvert has helped multiple global organizations become customer-centric through web personalization, customer research, A/B testing, advanced segmentation algorithms, etc. The tool gives access to an analytics account for getting deep insights into customer experiences. It also provides testing and improvement ideas to organizations for lifting conversion rates, ROI rates, and retention. The tool helps organizations turn their ideas into results by constantly updating them on evolutions happening in the competitive market.
Summing it Up
Website customization tools are important because they have altered how firms connect with their customers. Website personalization is the most effective technique to improve the user experience. Brands may convert their target audience into loyal consumers by catering to their wants and preferences. There are various excellent website personalization tool available to do so, but none compare to ConvertPath. ConvertPath belongs to 500apps' renowned 40+ App Suite and is distinguished by its hyper-personalization capabilities. Advanced automated client onboarding, as well as additional capabilities like geo-location targeting, exit-intent technology, and so on, make it a compelling and economical solution.
What Makes the Best Website Lead Generation Tool?
#1
Maximize your conversions with personalized popups based on visitor's activity
#2
Personalize website based on visitor's past interactions
#3
Enable popup triggers to re-engage website visitors showing an intent to exit
#4
Build unlimited custom popups to convert website visitors into customers
#5
Make data-driven decisions by tracking subscribers
#6
Trigger popups based on user behavior like scrolling activity, time spent on the page
#7
Activate popups based on the visitor's country, browser and device
#8
Choose from a number of conversion-driven templates
#9
Unbelievable pricing - the lowest you will ever find
#10
Everything your business needs - 50 apps, 24/5 support and 99.95% uptime
Join the SaaS Revolution
All-in-One Suite of 50 apps

Unbelievable pricing - ₹999/user

24/5 Chat, Phone and Email Support