How to Amplify Website Lead Generation by 4%?
Here are some tips to help you with the important process website lead generation that will help you track the success of different campaigns.
Lead generation fits into an inbound marketing strategy and helps a company generate leads from websites. A business organization's main objective is to acquire leads to make a loyal customer base and grow its branches. The team members can boost sales if they get high-quality leads to assist them. Therefore, most companies utilize huge amounts of resources on lead capture strategies.
What is Lead Generation?
Lead generation refers to the process of attracting prospects to a business organization while aiming to turn them into loyal customers. The prospects interested in the products and services when they get attracted to a company's business are called leads. Companies use various ways to generate leads like job applications, coupons, online content, blogs, live events, etc. Every individual has different needs and preferences. For this reason, not everyone can be a lead for companies. However, many companies make the mistake of marketing their products and services to everyone instead of focusing on people interested in what they offer. That is why they must know ways to generate leads efficiently from a website.
How to Generate Leads Efficiently from a Website?
Every business organization must increase sales by nurturing and converting prospects into faithful customers. For most companies, lead generation is a bottleneck that they must overcome to succeed in the competitive market. For this reason, they need the right methods to generate leads from websites online with the right lead generation tool.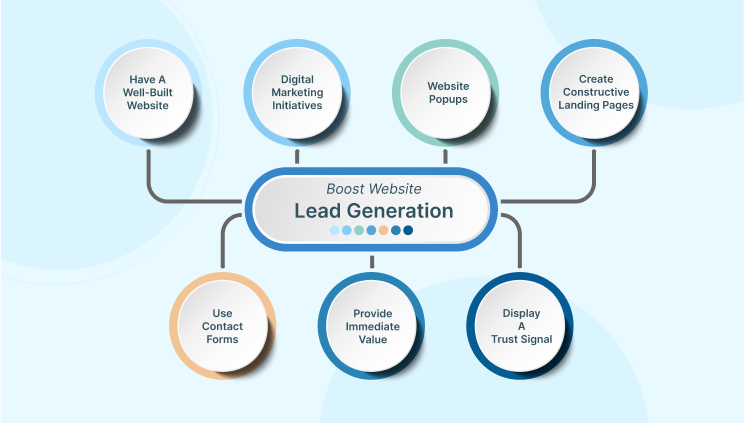 1. Have a Well-built Website
A company's online business must have a well-designed website that gets optimized properly for the prospects to find it. The companies can take help from web design services to constitute a well-built site suited to generate leads. The team members must remember the fundamentals of web design when optimizing their official site. Each page must specify the purpose aligned with business goals and marketing to help the leads find relevant information.
2. Create Constructive Landing Pages
Effective landing pages play a significant role in lead generation web development processes. Most landing pages serve informational purposes, but the effective ones contain conversion-focused elements that get optimized for a better user experience. However, companies must make sure to minimize the number of clicks on the website to avoid baffling the prospective leads.
3. Use Contact Forms
Companies must subtly approach the lead once the latter is willing to provide their contact information after finding a convincing landing page. It takes time to convert prospective leads into loyal customers. Therefore, companies must wisely employ user-friendly contact forms to nurture the leads and get the necessary information eventually. In addition to basic personal information, it is essential to include fields that clearly state what you expect from them and propose a good pitch.
4. Provide Immediate Value
A company can succeed in inbound sales by optimizing the website for lead generation. To accomplish this, they will need a good Website Personalization App. However, the team members must deliver on their promises immediately after the prospects officially become business leads. A company can provide the value promised to a lead by guiding the latter through sales channels, revenue data, etc.
5. Display a Trust Signal
Lead generation has a strong connection with social proof because it communicates why a company is a right agency for business. Companies must make sure to have trust signals to make their agencies or teams look good in the eyes of potential leads. The best way to display social proof is by collecting the best testimonials from existing clients and giving a preview of the company's success stories.
6. Maximize Digital Marketing Initiatives
Digital marketing has various aspects like search engine optimization (SEO), web design, content marketing, conversion rate optimization, etc. A company must utilize digital marketing initiatives and use strategies like email marketing campaigns, ads, banners, etc., to generate leads from websites.
Amplify Lead Generation with Website Personalization Tool Sign Up 14 Day Trial
7. Engaging Website Popups
Website popups can be regarded as a potent asset in the arsenal of a successful company because of their enormous potential to lure and convert visitors and nurture relationships with customers. Website popups are effective and user-friendly since they appear automatically, thus providing an enriching browsing experience for users. Moreover, popup modules have the power to manage users by sending them relevant content without being poked or prodded like other marketing tools. Not only that, popup's nurturing features help business owners reduce cart abandonment as well as cut down on customer support costs through easy on-the-spot assistance!
What ConvertPath Offers to Boost Lead Generation?
ConvertPath by 500apps is a personalization tool for website that helps boost user conversion through unique web campaigns. The tool helps a company optimize its website with an effective lead generation plan, allowing companies to maximize their growth and profitability by generating leads through offline and online channels. The application employs the following strategies to generate leads.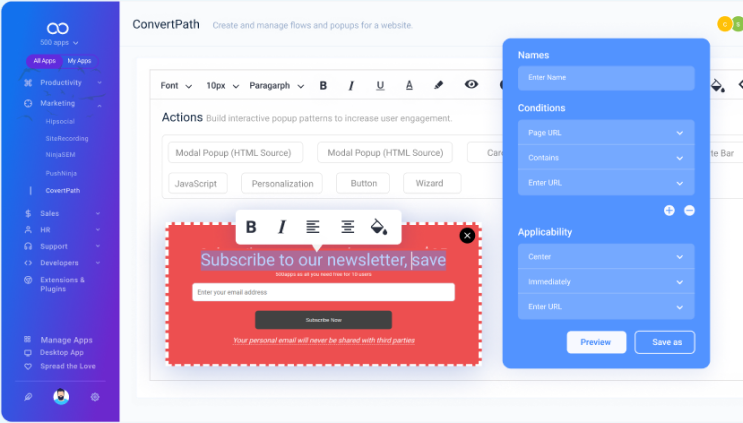 Website Popups Website popups are the best ways to provide information and significant promotional offers to visitors. ConvertPath helps build popups to catch the viewers' attention and convert site visitors into buyers or loyal customers. These popups have a call to action (CTA button) to encourage client engagement when they visit the website.

Exit-Intent Campaign ConvertPath utilizes the exit-intent campaign to retain a company's website visitors by capturing their attention through monitored mouse movements and sending personalized messages when they decide to leave the site. The campaign is a significant way to minimize the bounce rates of a website by prompting the leads to visit it again.

User Segmentation ConvertPath's User segmentation software helps personalize web campaigns according to the target audience. Companies can display the right message to the right audience and improve the user experience by segmenting the needs and requirements. User segmentation is the best way to enhance a website's on-site engagement to generate leads and attract subscribers.
Summing it Up
A company's inbound marketing strategy must involve effective lead generation strategies to attract an audience and generate leads from websites. An individual becomes a delighted customer by getting the identity of a prospective lead for a website. However, companies must adopt the right methods to generate leads and convert them into loyal customers of their products and services. The team members can take help from website personalization tool like ConvertPath to optimize the web pages and make them attractive to customers. A company grows further with higher revenue and better sales if it makes significant progress in lead generation strategies.
What Makes the Best Website Lead Generation Tool?
#1
Maximize your conversions with personalized popups based on visitor's activity
#2
Personalize website based on visitor's past interactions
#3
Enable popup triggers to re-engage website visitors showing an intent to exit
#4
Build unlimited custom popups to convert website visitors into customers
#5
Make data-driven decisions by tracking subscribers
#6
Trigger popups based on user behavior like scrolling activity, time spent on the page
#7
Activate popups based on the visitor's country, browser and device
#8
Choose from a number of conversion-driven templates
#9
Unbelievable pricing - the lowest you will ever find
#10
Everything your business needs - 50 apps, 24/5 support and 99.95% uptime
Join the SaaS Revolution
All-in-One Suite of 50 apps

Unbelievable pricing - ₹999/user

24/5 Chat, Phone and Email Support