How to Capture Leads on Your Website?
Capturing leads is crucial as it allows you to interact with online users, giving you a chance to make the most out of the situation further.
If you want your company to thrive, the best thing to do is go through the online space and make your mark through digital marketing. One way to get the job done would be to build a website that's convenient and accessible enough for most people to convert from curious online users to paying customers.
It seems like a simple enough process, but there are so many variables that it's easy to feel lost when optimizing your site. One way to help keep things in order is to have a little roadmap you can follow to ensure you don't lose your way. For example, capturing leads is crucial as it allows you to interact with online users, giving you a chance to make the most out of the situation further.
Tools To Capture Leads On Your Website
Now that you have a proper goal set toward web optimization, the next step is to look into ways to capture leads through the use of business software. There are digital tools for just about every aspect of running a company, making it quite easy to get the attention of your target demographic — provided you take the time to learn which tools are the best.
Use Web Engagement Software
How well you can convert users into paying customers depends on your website's ability to engage its users. Since we've already figured out that digital tools and business software can help push your company forward, it's only natural to look into web engagement software as the primary means of optimizing your website.
While it might take some time to figure out the best match for your business, we went ahead and dealt with most of the legwork. As a result, we have an example of web engagement software that can potentially be a landmark tool for you and your business.
ConvertPath - The reason why ConvertPath takes the cake as one of the most effective web engagement software platforms around is that it's meant to be used as an all-in-one software suite. It understands web engagement through the use of behavior analytics tools, and Convert Path has more than enough for a fantastic start. The best part? You won't have to worry about coding due to how easy it is to manage, especially compared to many of its competitors.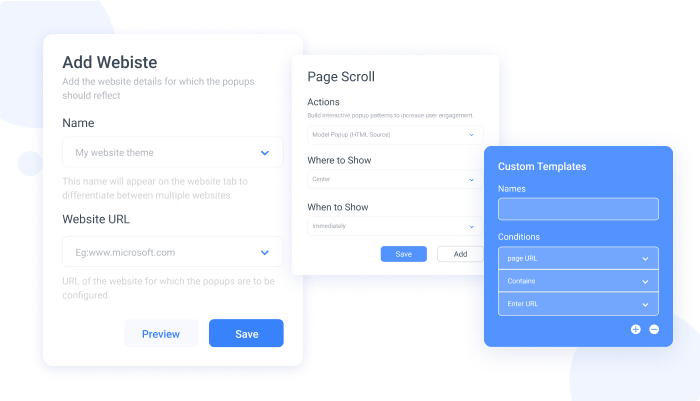 There's no need to learn any kind of coding if you want to make the most out of ConvertPath. Instead, it's all about taking the time to learn a few intuitive processes to get the job done.
While there are undoubtedly many different types of user engagement software available for your business, you can't go wrong with ConvertPath. It's something that will continue to benefit your company the more you use it, which is why it's a good idea to get into web engagement software as early as you can. After all, the rest of the competition is doing the same!
Boost your Website Conversion with Lead Generation Software Sign Up 14 Day Trial
Manage Your CRO
When we talk about converting online users into paying customers, the technical term is conversion rate. Keep in mind that you can have a great marketing campaign while still having a low conversion rate — which can be as discouraging as it is confusing for some business owners.
Such a thing happens in the first place because many business owners focus too much on the marketing campaign rather than the landing page. Online users get excited and click, only to find an unoptimized and messy website. They leave without doing anything else, which results in a low conversion rate. Such is the reason why tools such as ConvertPath matter so much. Without those tools, it isn't easy to fully optimize a website.
Keep An Eye On Design
Last but certainly not least, it's vital to look into the design of your website if you want people to start supporting your business. For example, is your website optimized for the mobile industry? Keep in mind that most people are surfing the web through their mobile phones; most of them aren't patient enough to wait more than fifteen seconds for a website to catch their interest. So if it isn't focused on the mobile version, they'll likely find what they want from your competitors.
Keep the design simple and professional while simultaneously working on the mobile side of things. The rule of thumb is that the mobile version has to be equal or superior to the desktop version of your business site. There's too much to lose for those who don't focus on mobile.
Conclusion:
Capturing leads on your website is all about getting people to trust your business enough to leave their information willingly. With the help of lead generation tool such as ConvertPath, it's more than possible for new company owners to make their mark in the industry.